The only product of its kind, the SlushTender is a patented, portable, battery operated beverage dispenser designed to distribute frozen lemonade, frozen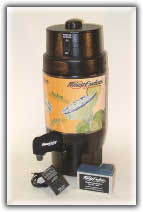 margaritas and virtually any other slush beverage. The SlushTender may be easily converted into a SlushPack backpack slush beverage dispenser. Alone, or in combination, the SlushTender & SlushPack enable the remote distribution
of slush beverages to fans in the stands or sun worshippers on the beach.
When supported by the SlushBlender, the SlushTender becomes a high volume, low cost slush distribution system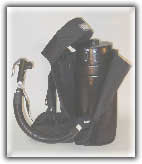 for use in major sports venues, large parties, picnics or wherever people gather in large numbers.
The SlushTender holds approximately 3 gallons of slush and weighs 48 pounds when fully loaded. The SlushTender is but one component of the fully integrated SlushSystem which includes all of the necessary e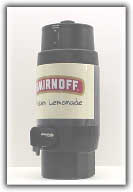 quipment to produce slush in sufficient quantities to support the SlushTender. The SlushBlender is capable of making 3 gallons of slush in approximately two minutes and the SlushMobile is a vending trailer which houses all the equipment necessary to produce slush including the SlushBlender and ice machines.
The standard SlushTender unit consists of a 3-gallon insulated beverage product tank, a motor and battery with housing assembly. ThirstEnders offers a full line of support equipment and will b
e glad to discuss your specific vending requirements whether you are considering the purchase of one or many SlushTender units.
Temperature Retention:
State-of-the-art insulation of the ProducTank and shell provide superior performance. With an original filling temperature of 36° F (2° C), there is a two degree (2° F) loss per hour at 90° F (32° C) ambient temperature.
Accessories:
Customized 4-Color Graphic Laminated Sign, ThirstEnders Premium Drink Mixes.