. ....................
The SlushBlender has been developed by ThirstEnders and represents a breakthrough in the preparation of large "batch" amounts of slush. The SlushBlender is easy to operate and maintain and consistent product quality is achieved through precise and simple measuring instructions and portion controlled ingredients. The unit is designed to comply with all applicable regulatory requirements. Designed to be a component of the SlushMobile, the SlushBlender is easily transported and relocated.
The SlushBlender is but one component of the fully integrated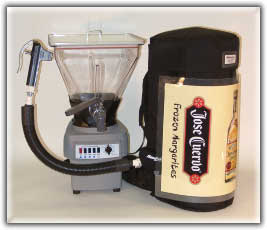 SlushSystem which includes all of the necessary equipment to produce slush in sufficient quantities to support the SlushPack. The SlushBlender is capable of making 3 gallons of slush in approximately two minutes and the SlushMobile is a vending trailer which houses all the equipment necessary to produce slush including the SlushBlender and ice machines.
The SlushBlender consists of a blender hopper and motor housing. ThirstEnders offers a full line of support equipment and will be glad to discuss your specific vending requirements whether you are considering the purchase of one or many SlushBlender units.
Accessories:
ThirstEnders Premium Drink Mixes.