Introduced in 1995 and engineered around the same ergonomically designed nylon
shell/harness assembly used in the original BevPack, the patented BottlePack and CanPack are designed for vending pre-packaged, chilled bottles and cans in 20 oz., half liter, 16 oz., 12 oz., and 7.7 oz. sizes. These rectangular shaped backpacks have an empty weight of 5.5 lbs., and will dispense thirty (30)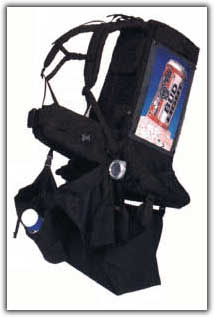 20 oz. PET bottles, thirty-six (36) 16 oz. or 12 oz. cans or sixty-six (66) 7.7 oz. cans.
In addition, the BottlePack and CanPack offer the ability to promote your product through advertising panels that fit on to the sides and back of the backpack. The two side panels allow for advertising graphics of 9"x 15" and the back panel allows for an advertising graphic of 10" x 22".
The standard BottlePack and CanPack units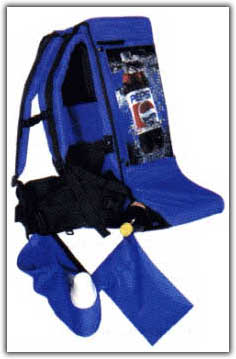 consist of a backpack shell/harness and a money/cup belt. ThirstEnders offers a full line of support equipment and will be glad to discuss your specific vending requirements whether you are considering the purchase of one or many BottlePack or CanPack units.
Temperature Retention:
State-of-the-art insulation is featured in these backpacks providing superior performance. With an original filling temperature of 36° F (2° C), there is a four degree (4° F) loss per hour at 90° F (32° C) ambient temperature.
Ergonomically Designed:
85% of the backpack weight is distributed to the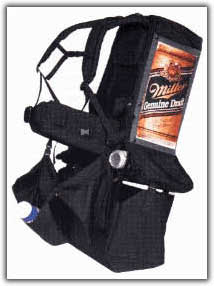 foam hip belt. Load stabilizer straps shift the load of the backpack to the lower back. The backpack features conical cut hip and lumbar pads for added comfort.
Accessories:
Bird-Bag (used to carry empty containers when cups are utilized). Customized 4-Color Graphic Laminated Sign.