The SlushPack is a patented, portable, battery operated, backpack beverage dispenser designed to
distribute frozen lemonade, frozen margaritas and virtually any other slush beverage. The SlushPack utilizes the same nylon shell/harness as the BevPack. The heart of the SlushPack is the SlushTender which is easily converted into the SlushPack. Alone, or in combination, the SlushPack &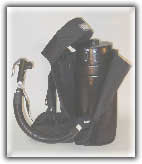 SlushTender enable the remote distribution of slush beverages to fans in the stands or sun worshippers on the beach.
When supported by the SlushBlender, the SlushPack becomes a high volume, low cos
t slush distribution system for use in major sports venues, large parties, picnics or wherever people gather in large numbers.
The SlushPack holds approximately 3 gallons of slush and weighs 49 pounds when fully loaded. The SlushPack is but one component of the fully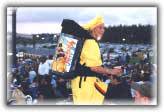 integrated SlushSystem which includes all of the necessary equipment to produce slush in sufficient quantities to support the SlushPack. The SlushBlender is capable of making 3 gallons of slush in approximately two minutes and the SlushMobile is a vending trailer which houses all the equipment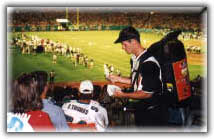 necessary to produce slush including the SlushBlender and ice machines.
The standard SlushPack unit consists of a backpack shell/harness, a 3-gallon insulated beverage product tank, a dripless FullFlow dispensing faucet and dispensing hose assembly, a motor and battery with housing assembly, and money/cup belt. ThirstEnders offers a full line of support equipment and will be glad to discuss your specific vending requirements whether you are considering the purchase of one or many SlushPack units.
Temperature Retention:
State-of-the-art insulation of the product tank and shell provide superior performance. With an original filling temperature of 36° F (2° C), there is a two degree (2° F) loss per hour at 90° F (32° C) ambient temperature.
Ergonomically Designed:
85% of weight of the backpack is distributed to the foam hip belt. Load stabilizer straps shift backpack to the lower back. The backpack features conical cut hip and lumbar pads for added comfort.
Accessories:
Customized 4-Color Graphic Laminated Sign, ThirstEnders Premium Drink Mixes.